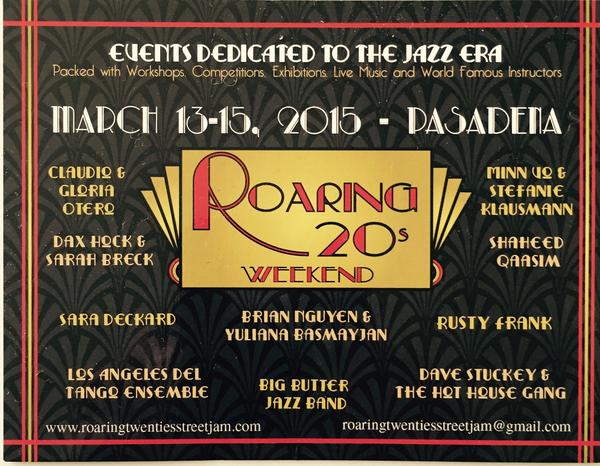 The Roaring 20s Street Jam is a unique event focusing on the most influential dances of the 1920s — the Charleston, Argentine Tango, Solo Jazz and Early Swing. Join us for a truly unique event you don't want to miss, with an amazing line up of teachers, band and shows! Not to mention, lots of dancing & competitions!! The 1920s, also known as "The Jazz Age," was the birth of many celebrated and passion-driven dances.
This weekend's event will encourage your own self-expression, as well as develop authentic moves from those times.
* Sara Deckard * Dax Orion Hock * Sarah Breck * Shaheed Qaasim * Gloria Otero * Claudio Gabriel Otero * Yuliana Basmajyan * Brian Nguyen * and more!!
*3 nights of live music from Dave Stuckey & The Hot House Gang * The Big Butter Jazz Band * Los Angeles del Tango Ensemble * and more!
*Workshops * Exhibitions * Competitions * Showcases *
*Amazing Vintage Clothing Vendors *
Brian & Yuliana's Teaching Schedule:
SATURDAY, MARCH 14
10:00 -11:00 am Argentine Tango Level II
12:10 – 1:10 pm LUNCH CLASS All Levels
2:25 – 3:25 pm Argentine Tango Level I
SUNDAY, MARCH 15
11:10 – 12:10 pm Argentine Tango Level I
1:15 – 2:15 pm Argentine Tango Level II
3:35 – 4:35 pm Milonga (All Levels)
There will be Jack & Jill Argentine Tango Competitions: no partner necessary
Please check out the website for the complete schedule:
www.roaringtwentiesstreetjam.com