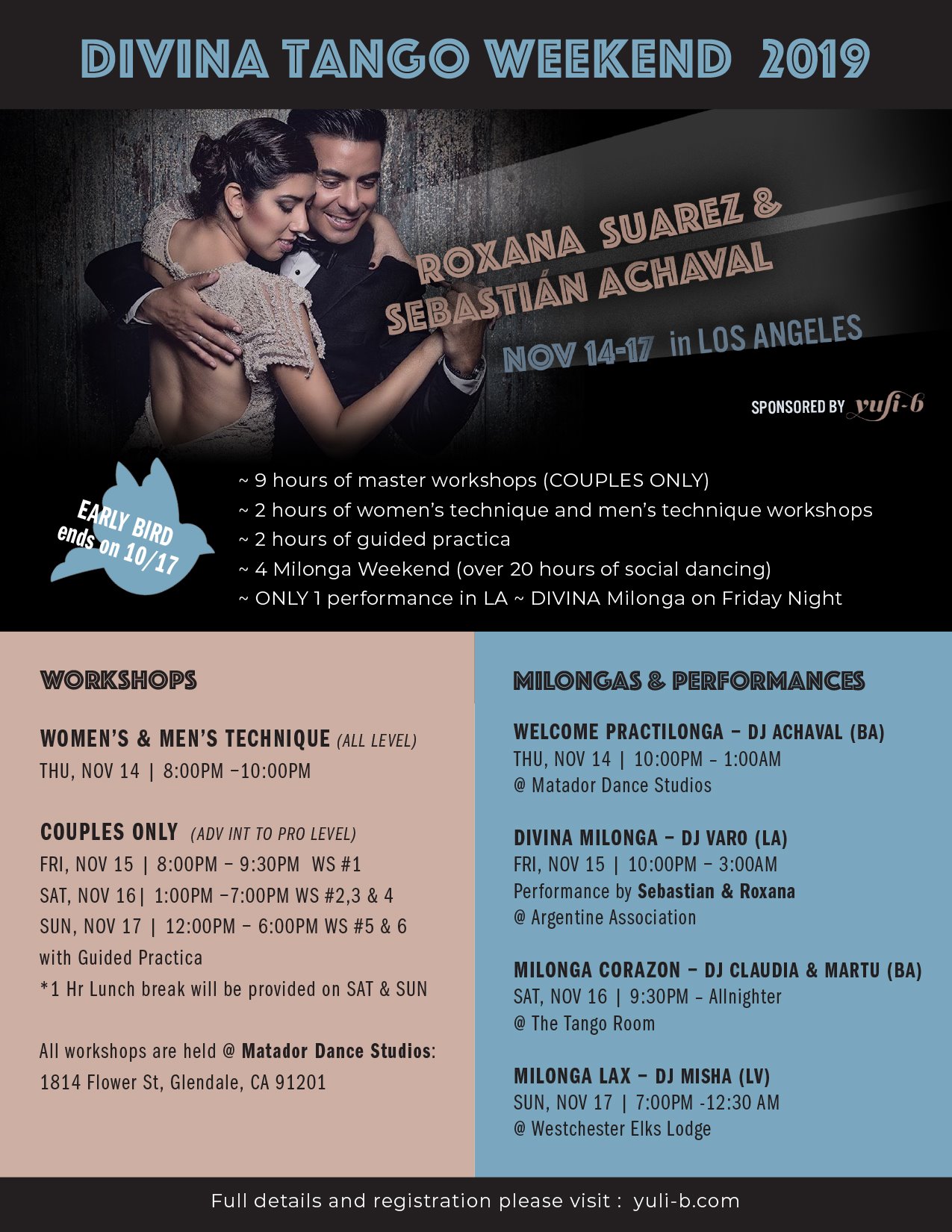 Roxana Suarez & Sebastian are coming back to Los Angeles. Due to high demand and a very successful visit in 2018, we are thrilled to announce the return of this highly sought-after couple. During their previous visit, they were a sold out hit and had to decline many privates. We highly recommend that you register promptly as they will quickly book up! 
We invite you to DIVINA tango weekend in LA which includes:
~ 9 hours of master workshops
~ 2 hours of women's technique workshops
~2 hours of men's technique workshops
~ 2 hours of guided practica
~ 4 Milonga Weekend (over 20 hours of social dancing)
~ ONLY 1 performance in LA ~ Gala Milonga on Friday Night
This will be their only appearance in the West Coast! 
Join us for "Girls' Happy Hour"
SAT / OCT 26 3:00-5:30pm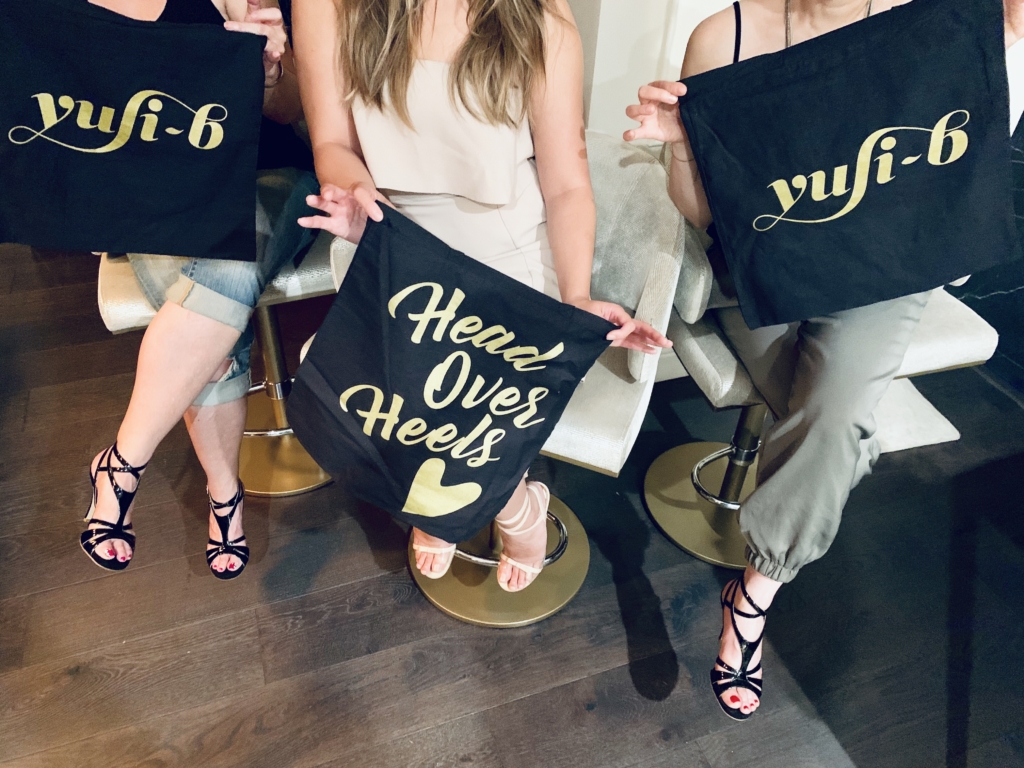 Come on out for some fun girl time & get the first peak at our new fall collection. Yuli will pour champagne & offer you her best advice on what shoe & attire will make you look fabulous on the dance floor… Come on out & get a  personal fitting to know what shoe is just right for you. In addition to tango shoes, there will be second-hand – one of a kind & inexpensive dresses, skirts, tops, outfits for milongas, competitions & performances.
If  you are unable to attend, we  invite you to check out our collections online  at www.yuli-b.com (FREE shipping within the US included).
THE FUN  DOESN'T  STOP…..
Practica Mariposita following Girl' Happy Hour
SAT / OCT 26 – PRACTICA MARIPOSITA 5:30-8:30pm ($10)
DJ Sebatian Arrua
NOTE: Free Entry to the Practica with Purchase during the Girls' Happy Hour
Welcome to the first edition of Practica Mariposa with special Halloween season haunted indoor / outdoor atmosphere. Practica Mariposa will be a new afternoon recurring pop up Practica at Yuli B Dance Studio.
Refreshments and snacks will be provided. Special guest DJ Sebastian Arrua will be on hand for our sonic delight. Come enjoy this cozy, casual, and intimate Practica with a taste of Halloween enchantment.
Please bring a water bottle or other receptacle so we can limit our plastic cup waste and be environmentally friendly.
Location:  YULI B Dance Studio/Showroom
Address: 1126 North Florence Street, Burbank,CA  91505

The sixth edition of the Southern California Tango Championship is a non-profit event organized by Yuli B and is going to take place on March 13-15th, 2020.
Our mission is to celebrate the art of Argentine Tango through good sportsmanship and healthy competition. The event includes the championships, milongas, & workshops. The championships will include 7 categories: Salon, Tango, Stage Tango, Milonga, Vals, Senior Tango, Stage Group, and Jack & Jill. We want to make this event truly memorable to everyone who attends and participates. 
Stay  Tuned for More Details…

Greek Island Tango Retreat featuring Yuliana & Octavio
(Sept 7-15, 2019)
Early bird packages:
•Double room: $1,850
•Single room: $2,250
8-Night Retreat Package Includes:
•Beachfront Hotel w/Breakfast
•Catered Orientation Dinner
•Daily Intensive Tango Classes
•Nightly Milongas
•Gala Night w/Performances
•Traditional Greek Dinner Night with Live Music
•Farewell hosted dinner party
•Daily Beach Outings
•Excursions to Ancient Sites
•Private Yacht Tour
•Personalized Travel Planning
Facebook Link: https://www.facebook.com/events/218439535758966/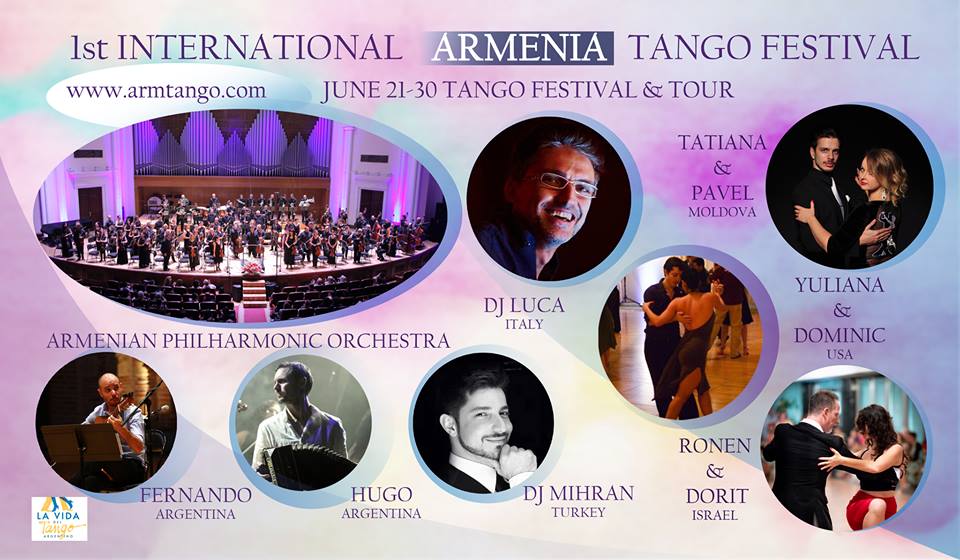 Armenia Tango Festival (June 21-30, 2019)
Available in full package from 21st – 30th of June, but if you are planning to come only one weekend, you can choose between the following options in Yerevan or in Tsakhkadzor.
• 21st – 23rd of June Festival in Yerevan
• 23rd – 28th of June Tango tour in Armenia
• 28th – 30th of June Tsakhkadzor (all inclusive)
Facebook Link: https://www.facebook.com/events/279299639637976/

Yuliana will be part of the judging panel at the Berlin Tango Contest! There will 10 Categories and great prizes – Salon Tango winners get free tickets to BsAs!
~ Regular price full registration is 125 Euro.
~ 10% off DISCOUNT CODE available for the competitors: SoCal2BOtc2019
Facebook Link: https://www.facebook.com/events/279299639637976/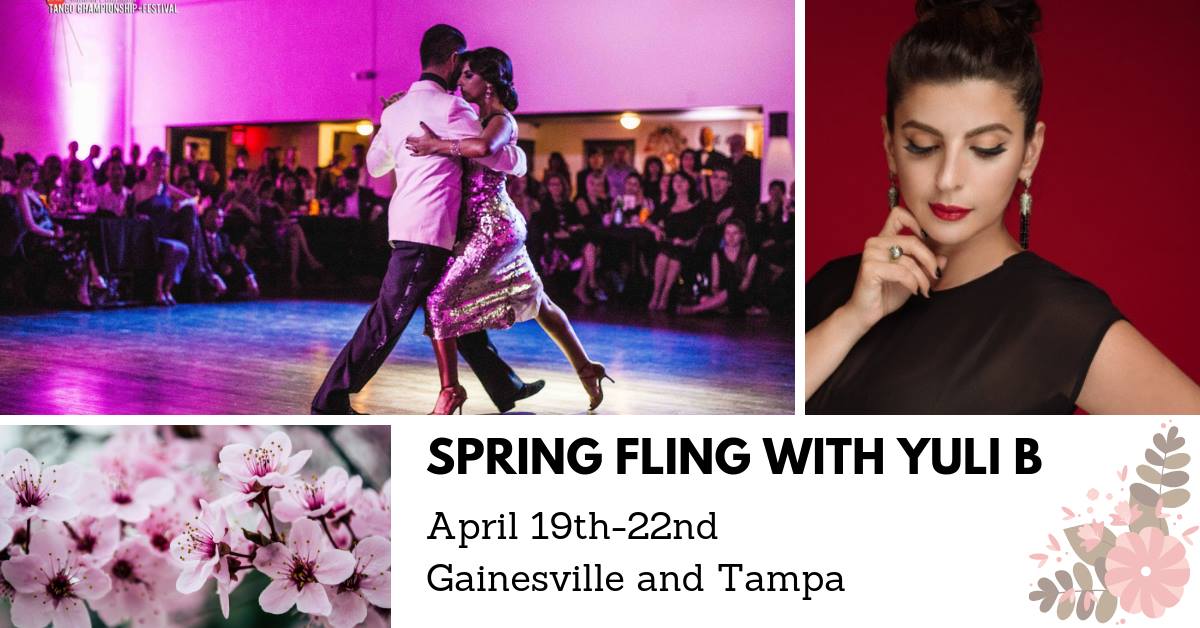 Southern California Tango Championship + Festival (aka "SCTC")
Popular annual tango festival & competition in Los Angeles, California. World-renowned maestros, live music, workshops, and fun tango competition with incredible prizes.
For more info and registration, visit www.socaltangochampionship.com
TRUNK SHOWS & PRIVATE SHOE PARTIES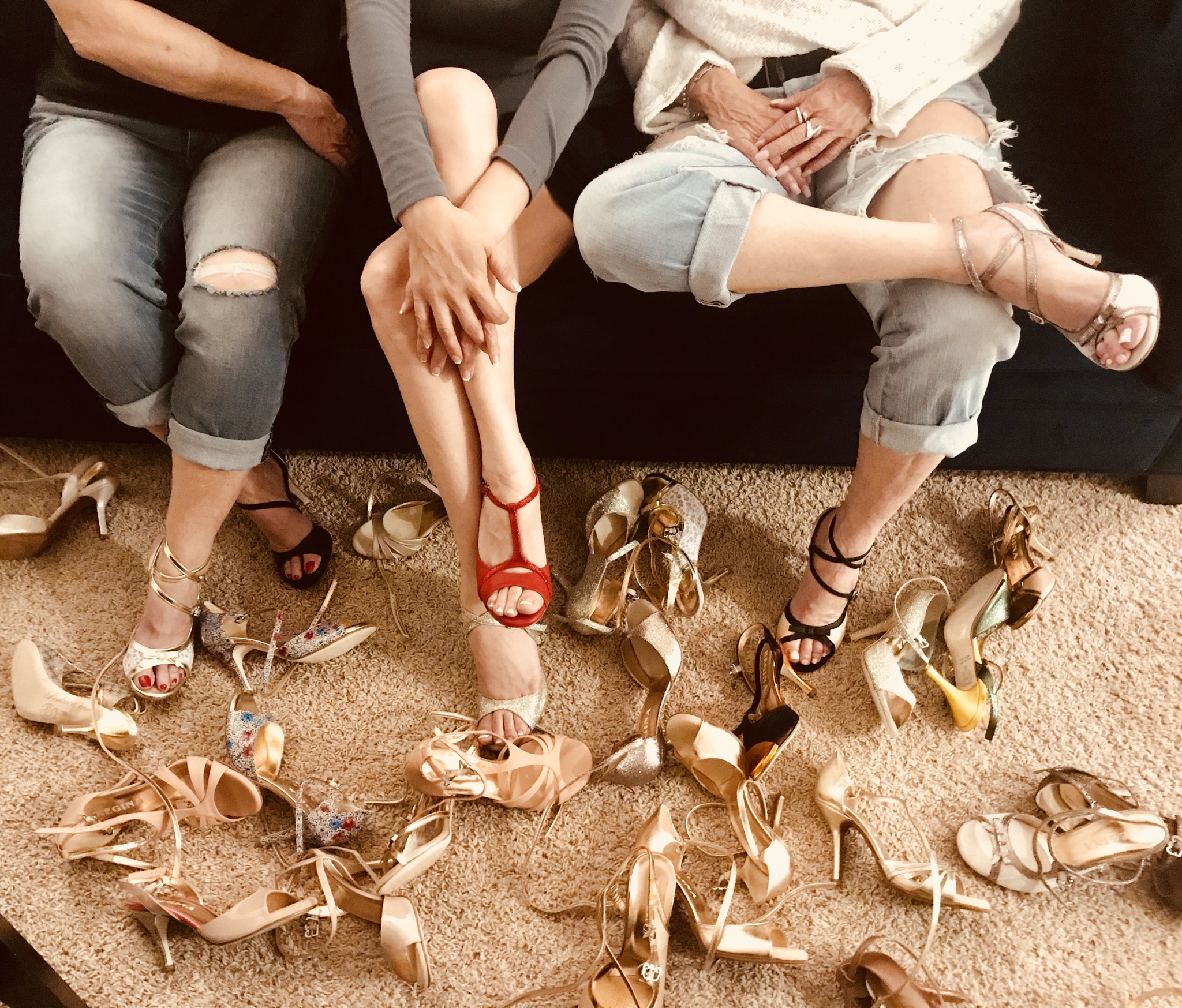 Fashionistas ~ join us at special events and trunk-shows 2019!
Tango Shoe Parties… there is nothing better than a group of girls sipping on wine and trying on all their favorite Regina shoes. We invite you to organize a private shoe party with all your friends, and in return you will receive exciting bonuses. Whether you have a special event or just want to be the first to see our new collections, our Tango Parties will be a hit.  Contact Yuli for more details!