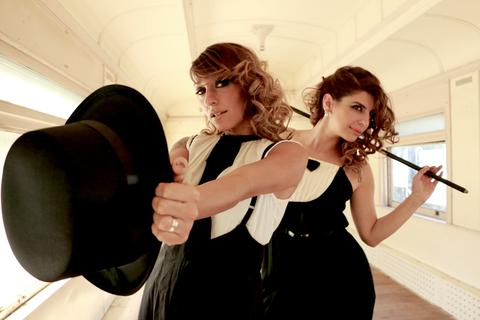 Yuli B Presents 3 Intensive Leaders' & Followers' Technique Seminars at Hollywood Dance Center. The seminars will be taught by Soledad and Yuliana.
 SUNDAY – APRIL 12:  2:30 – 4:00PM 
    LINEAR MOVEMENTS
Working on body awareness and body control
Developing an effective posture
Finding the axis & using the center of the body as a frame of stability and balance
Mastering the technique of relying on one leg at a time & experiencing the benefits of stability & strength on one leg
Learning how to transform impulse into projection, & how to transfer the weight in a functional way in all linear movements
Improving quality of movement
SATURDAY – APRIL 18:  2:30 – 4:00PM 
   CIRCULAR MOVEMENTS
Learning how and when to separate and connect your body halves
Working on dissociation, association and spirals that we will improve pivots, front & back ochos, turns
SATURDAY – APRIL 25: 2:30 – 4:00PM 
  USE OF THE FREE LEG
Learning how to train like a pro and how to practice alone
Improving the movement of the free leg, such as low and high boleos, enrosques and lapices
Working on footwork and embellishments
PRICING 
1 Seminar – $30, 2 Seminars – $50, 3 Seminars – $60
Click here to purchase your pass:
ADDRESS
817 N Highland Ave, Los Angeles, California 90038
ABOUT SOLEDAD:
Soledad started dancing Ballet at the early age of 5, and she continued her education in Flamenco, jazz and many other dances until she was 13 years old. In 2002 she started dancing Tango and trained intensely. By 2005 she was already teaching in one of the most prestigious dance schools/Milongas of Argentina called La Viruta, and also other schools like Tango Brujo, La Maleva. She started traveling to teach abroad in 2007. And that year, she also discovered Swing Dancing.
Since she is the only professional female dancer of both Tango and Swing, she travels worldwide to teach both styles and share both cultures with the world. She has been in Canada, EEUU, Italy, Spain, England, Turkey, Russia, Norway, Belgium, Netherlands, France, Rumania, Poland, Sweden, Ukraine, among others…
As a tango dancer, she participated in few festivals, such as: Kiev International Tango Festival, Montreal Tango Festival, Stockholm Tango Festival, Tango Magia Amsterdam, CITA, Warsaw Tango Festival, Antalya Tango Festival, and more…
Dancing Swing, she won 1st Prize in the Team Division and 2nd Prize in Slow Dance Couple in ESDC 2012 and in that same festival, in 2013, she won 3rd Prize in the category Lindy Couples and 2nd Prize in Slow Dance Couple. She also participated and taught in Argentinian Festivals such as the LHAIF, and Swingin' Festival. She is currently working to spread Lindy Hop (Swing) in Latin America; she was the first Swing teacher in La Plata (Buenos Aires Province, Argentina) and has been teaching in many cities around the country.
Her unique style, both in Swing and in Tango shows a mixture of sensuality and elegance, that captivates the audience immediately.
ABOUT YULIANA:
Born and raised in Armenia, Yuliana Basmajyan immigrated to the US in her early adolescent years. For many years she tested her skills in different dance forms, including modern, jazz, flamenco, and extensive training in Salsa. She discovered her talent in tango after years of salsa and switched careers to pursue what she believed to be more 'daring' and 'rewarding'. She studied under world-class dancers such as Natalia Hills, Romina Levin, Andrea Misse, and Geraldine Rojas to name a few. While living the dream, she performed in tango shows and concerts that took place in Nokia theatre, Wilshire Ebell theatre, Florentine Gardens and many high-end banquet halls around CA and Mexico.  Yuliana has taught and performed at various festivals and milongas in USA and Canada such as El Congreso in Toronto, Valentango in Portland, Tango Mundo Festival in Palm Springs, Fire & Ice Festival in Ann Arbor, Tucson Tango Festival in Tucson, Mercury Cafe in Denver, La Nacional, Ukraine, and Nocturne Milongas in NYC. She has given workshops in Sacramento, San Francisco, Palo Alto, Stanford, San Diego and other cities in USA. She is the 2010 & 2011 U.S. Tango Champion in Tango Salon, and she took 3rd place in Tango Mundial 2011 Salon Category, the annual world competition held in Buenos Aires. Yuliana has been an established teacher in Los Angeles since 2009. She has taught at several schools and tango clubs in LA such as Oxygen Tango School, Tango Room, Caltech Tango Club, Latin Pro Salsa School to name a few.  In March 2015 she created and organized the 1st Annual Southern California Tango Salon Competition which turned into a huge success.Currently, she is established in LA teaching weekly classes in Pasadena, Glendale, Eagle Rock, West Hollywood and other parts of LA. Also, she runs two of the most successful and popular milongas in Los Angeles: Milonga Querida and Milonga Luna.