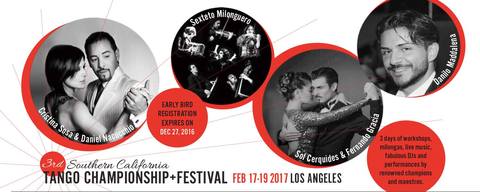 SAVE THE DATE!!!
The thrid edition of the Southern California Tango Championship & Festival is a private event organized by Yuli B with collaboration of Elaine Chiu and is going to take place in Los Angeles during the President's Day weekend (February 17-19, 2017).
After many years of traveling to amazing festivals worldwide and competiting numerous times in the World Tango Championship, Yuliana was eager to recreate these experiences in Los Angeles, combinging both festival & championship into a single quality event. The idea behind this event, is to create an environment for growth & inspiration!
The FESTIVAL includes:
3 days of workshops, milongas, live music, fabulous DJs and performances by renowned champions and maestros.
The CHAMPIONSHIP features the following 5 categories:
• Salon Tango
• Stage Tango
• Senior Tango
• Milonga
• Vals
It's tIme to reveal our festival maestros, guest performers, competition judges, the DJs & the orchestra that will play at the event.
Maestros & Judges are:
FERNANDO GRACIA & SOL CERQUIDES
(World Stage Tango Champions)
DANIEL NACCUCHIO & CRISTINA SOSA
(World Salon Tango Champions)
DANILO MADDALENA
(The organizer of the Italian & the European Official Tango Championship)
Guest Performers are:
ADAM CORNETT & TILIA KIMM
(2016 USA Tango Salon Champions)
DANIEL MORENO & AMANDA ORA ACCICA
(2016 USA Tango Stage Champions)
Live Performance by:
SEXTETO MILONGUERO
(they will be celebrating their 10th year anniversary of their orhcestra)
DJs of the Festival are:
Friday night – YAK BABA from San Diego
Saturday night – JONAS AQUINO from San Francisco
Sunday night – VARO BOYAJYAN from Los Angeles
We will open the registration very soon! Please stay tuned as we are still working on updating our website.
For any inquiries, please email us at info@socaltangochampionship.com and info@yuli-b.com
Looking forward to this exciting weekend in Los Angeles 🙂
Best regards,
SoCal Tango Championship Team
Yuliana Basmajyan & Elaine Chiu